We have a selection of confectionery products, which are specially made for customers to portion up themselves. They are 11in x 7in in size and have a shelf life of 4 – 6 weeks if kept in ambient conditions. This is a good cost effective way to buy. The cakes come in trays that make generous portions – the price per portion is completely up to the customer and will depend on the size of the portions they decide to cut. We keep our wholesale prices as low as possible to ensure maximum profit for our customers!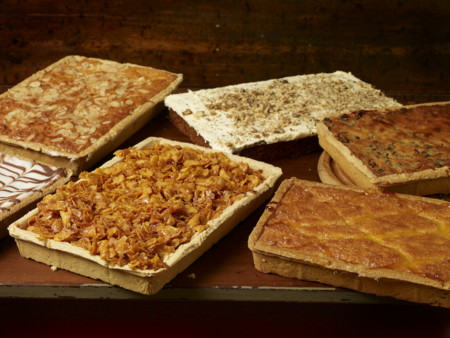 Our quality traybakes are baked to order, each produced to high standards. We use fresh natural ingredients, sourced locally wherever possible. All are free of transfats and GM products. We have many years of experience baking first class cakes and we still take immense pride in being able to respond to the individual needs of our customers.
We bake a selection of cakes, flapjacks, shortcake and other traybakes – supplying a variety of customers within the catering industry – including cafes, patisseries and shops. We can deliver our full cake range in and around the Derbyshire area and some of our cakes are available for delivery across the UK. Please ring us for any advice on 01246 863027.
Here are a few examples of our most popular traybakes.