Jacksons the Bakers Ltd is a family run business, which was established in 1944. Originally baking only war-rationed bread, Jacksons now produce a broad portfolio of craft bread, confectionery and savoury products including its speciality award winning 'Traditional Steak Pie', and the original Bakewell Tart.
Jacksons the Bakers Ltd supply 200 independent wholesalers in the area as well as delicatessens, the county council and we have even started looking into an enquiry from Denmark. Working at Jacksons is something of a night owl existence. Shifts start from 6:00 and 8:00 pm and each day between 8,000 and 10,000 bread products – rolls, loaves and speciality breads – are produced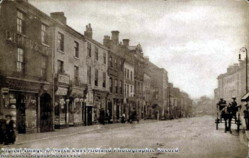 The confectioners come in later and make fresh cakes or finish off cakes that have already been baked. Workers in the Savouries Department start between 5:00 and 6:00 am making pork pies, sausage rolls and pasties…and the first deliveries roll out of the factory at around 5am. Each day around 5,000 confectionery products and a similar number of savoury products are produced at Jacksons the Bakers Ltd.
It's all a very long way from the days in Hasland, Chesterfield when just seven people worked at the bakery. The company moved to Brampton in 1994 and by the time we moved to our new Danesmoor premises in November 08, we were employing 48 people. Now there are 64 workers and with new orders increasing by the week, there's every chance we could be recruiting further in the near future.
From baker's boy to bakery boss – Trevor's tale
As a small boy Trevor Jackson would help out in his great uncle Cyril's bakery in Hasland. He would put the dough in the moulder and watch while it was covered in hessian and left to prove. It was a simple task – even a five-year-old could manage it! – and he loved being part of the family firm.
When Trevor was six he had his own little bread basket and would go round with his Uncle Cyril and his dad, Roy, doing doorstep deliveries: "They had one van and an estate car and they'd put two blocks of wood across the back in the boot to form a shelf. The confectionery would go on the top with the loaves underneath. I used to take the bread to the door and come back with the money in my hand for my dad to count. I'd work in the holidays and at weekends and did that right up until I left school," he says, adding, "I can't see them letting kids do that these days."
The company, which is today headed up by Trevor Jackson, was founded by his great uncle, Cyril Jackson in 1944. Trevor's great-grandparents sold their house to enable Cyril to buy the business, which initially baked only bread – something that was severely limited by rationing at that time. Trevor's father, Roy, joined the business at the same time, eventually taking the helm in 1977, the very same year that Trevor himself came on-board. Sixteen years later, in 1993, Trevor took over the company, with one of his first decisions being to buy another existing bakery in Brampton, Chesterfield in order to allow the business to continue to flourish and expand.
It was an inspired decision, for we have grown to serve a wide range of discerning customers, from shops and delicatessens through to local authorities and schools, within an approximate 40-mile radius of our bakery. We also run a retail outlet in Chesterfield; in fact, things are going so well for this quality-obsessed company that we have recently moved into a brand new, purpose built bakery in Danesmoor, Chesterfield.
However, it is important to point out that Jackson's the Bakers Ltdretains all our genuine craft bakery values, with the majority of our products remaining handmade. Indeed, we have recently won the 'British Baking Industry Award 2008', which underlines just how successful the company is in holding onto these values – some of our basic recipes have not changed in over 60 years.
The company ensures that our employees have the necessary skills to carry on this fine tradition too, including NVQs in Craft Bakery. "It's vital for the staff working here to be trained in all areas of craft bakery or they get into a rut," says Trevor Jackson. "There's a whole host of bakery skills to be learnt, which makes the job more interesting and their skills base broader."
In the heady days of his childhood, when the smell of freshly-baked bread was never very far away, Trevor could not have imagined that he would be where he is today – boss of Jacksons the Bakers Ltd in its brand new purpose-built facility on Pilsley Road, Danesmoor, Chesterfield. He and his wife Jane have worked hard to build Jackson's reputation and they are now beginning to reap the rewards of their hard work. We have just won contracts to supply decorated Gingerbread Men to Aldi stores in the South East, supply the Home Office with a variety of products for the MOD, Prison Service and NHS and to supply food service companies such as Taste Essential.
Our gingerbread men are unique," says Trevor, "They are all hand finished, which is very unusual. Anyone can produce high volume biscuits, but ours are special because they are hand finished."
We are also currently supplying to Enterprise Foods, a large national company with a £40m turnover, which uses regional bakers to ensure that no product ever travels more than 30 miles
Trevor Jackson