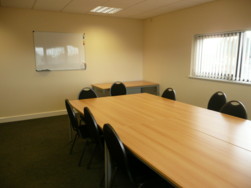 At our new purpose built bakery in Danesmoor near Chesterfield, we have a quiet and well appointed conference room for hire.
The room seats 12 people comfortably and is air conditioned room.
We charge £75 per day for the room and welcome coffee and table water included is included in the price.
Being a caterer, we can of course also provide breakfast in the form of bacon cobs or Danish pastries and  lunches from sandwiches, a buffet or a roast dinner.
Please ring 01246 863027 for more details.