Our shop is situated just off the main Market Place in the heart of Chesterfield. It is a traditional
Victorian shop full of  "Olde Worlde" charm, retaining many of the original fixtures and fittings.
All of our delicious products are on sale and our highly trained staff can advise on all our products and take orders for celebration cakes or any outside catering you require, from working lunches to wedding breakfasts.
We are locally renowned for our mouth-watering roast sandwiches, including turkey, beef and pork, served with stuffing, cranberry or apple sauce.
We are open 8.00am to 4.30pm, Monday to Saturday – we look forward to seeing you soon.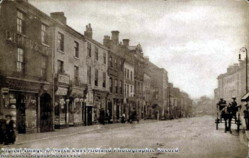 The shop fronts a part of Chesterfield town centre known as the Shambles which originally dates back to the 12th century. The Shamble's narrow streets are both quaint and home to a variety of shops and tea rooms. Of particular historical interest is a timber framed pub called the Royal Oak, which dates back to 1722 and has accommodated such guests as The Knights Templar during the time of the Crusades.
Chesterfield Market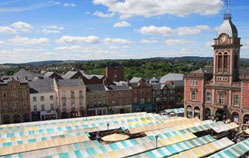 The traditional open-air market has been in existence since at least 1165, when the sheriff of Derbyshire recorded an account of £3 2s 7d from the market of Chesterfield. In the early 1220's it soon outgrew its original site near the Church of St Mary's and All Saints – the famous Crooked Spire – and moved to its current location in front of and around the Market Hall.
Markets are held on Monday, Friday and Saturdays with a flea market on Thursdays. Holiday markets take place on Easter Monday, May Day, Spring Bank and August Bank Holiday Mondays. There are approximately 200 stalls to look around so you are sure to find something of interest. For modern shopping stores visit Vicar Lane, The Pavements Centre and the Yards, as well as the High Street and surrounding areas.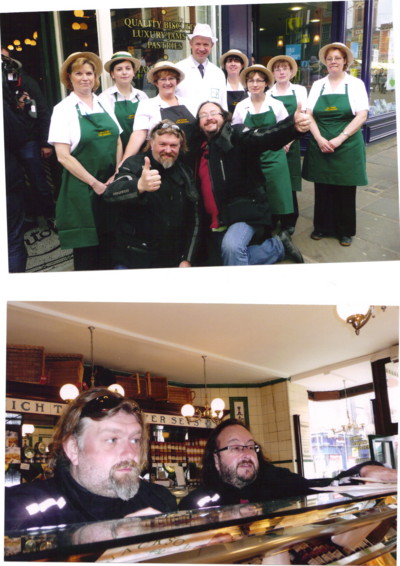 The Hairy Bikers visit Chesterfield
The "Hairy Bikers", Si and Dave, visited our shop in April 2009 to enjoy a few of our quality products.